Dr Kaival J. Patel
Dr Kaival Patel qualified from the University of Manchester and promptly moved closer to home in Milton Keynes. He achieved The Diploma of Membership of the Joint Dental Faculties at The Royal College of Surgeons of England and this was the start of his advancement within more complex dentistry.
Kaival has completed a Masters' Degree in Dental Implantology, with distinction, and is a member of numerous implant associations, including the ADI and BDA. He also has had the honour of being a finalist in the 2017 & 2018 National Dentistry Awards. This nomination was largely brought about by his caring and gentle approach and excellent patient feedback.
Kaival is also an experienced sedationist and Invisalign (Clear Braces) provider. He is a member of the Society for the Advancement of Anesthesia in Dentistry (SAAD) and provides a variety of anxiety-reducing techniques, including IV Sedation and has a dental phobia certification.
On a personal note, Kaival was born in Northampton, moved to Milton Keynes shortly after. Kaival is a keen football fan and has a love for cricket. He also enjoys watching rugby when he gets a chance, which is a little less frequent with his two young boys keeping him on his toes! If you get the opportunity, do pop in to Oxford House to say hello!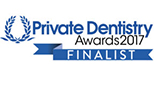 Dr Kaival J. Patel is
Dental Phobia Certified