About Us
Oxford House Dental Practice opened in 1954 and has been serving patients in Milton Keynes, the wider Buckinghamshire area and beyond ever since. The building is well-known locally for its familiar, recognisable exterior and large, private car park.
We are proud to be known as a long-standing, trusted institution in the area, offering patients the latest in dental technology in an established, relaxed environment. Our practitioners have a wealth of experience in treating patients and building relationships that focus on long-term care and maintaining good oral health.
Our achievements over the past 60 years are the product of the passion, skill, and dedication of our exceptional team. From the warm greeting you receive at the reception to the helpful and friendly attitude of our dental and healthcare professionals, we look forward to offering you excellent and compassionate service every time you visit us.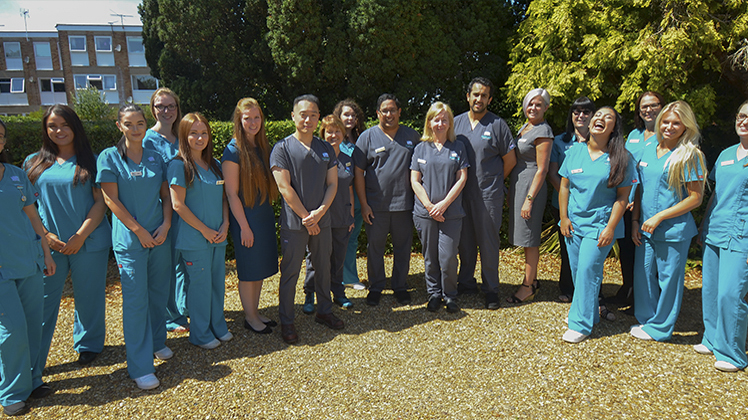 Our highly skilled professionals specialise in many fields of dentistry, and our enthusiastic team of hygienists and therapists are fundamental in our dedication to providing quality oral healthcare. We can ease anxiety for nervous patients using sedation techniques, and we also have a clinical dental technician available on site.
At Oxford House, we focus on treating you as a patient, not just another mouth. Our established dental team has been supporting patients throughout Buckinghamshire for many years. We understand the priorities and concerns you face when caring for your teeth and gums and offer individual advice and support.

We are proudly a part of The Kana Health Group
"To provide high quality dentistry in an environment that develops and nurtures talent."
Our Core Values
We will be the pinnacle in all that we do.
We pride ourselves on building relationships based on honesty, integrity and trust. We care.
We ignite inspiration and provide the opportunity to fulfil potential.
We encourage and empower our team to continually succeed and be the best they can be.
We have highly skilled team with a desire to learn and who are dedicated to their personal growth.
We will remain on the cutting edge of innovation and technology.
We provide an experience which is devoted to exceptional care and attention.
We belong to a positive team that are passionate about all we do, have respect for one another and are proud of what we achieve.
Contact us on 01908 373614 to book an appointment or email us for more information at [email protected].